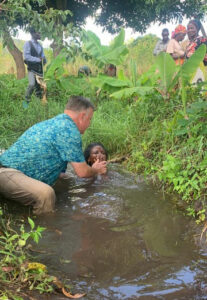 Church planting always starts with a prompting from the Lord, a response from His people, a door opened by the Holy Spirit and the preaching of the Gospel. This is exactly what has happened among the Machinga people this month. After receiving an indescribable invitation from the village leaders, Pastor John Gordon and Harold Nkhunika were our first team to travel to the Machinga people to preach the gospel.
These men were able to break bread and share Jesus with many of the Machinga people in several different locations. A few have already responded to the gospel and followed up with baptism. One chief has even donated property where a church can meet. It is exciting to anticipate what the Lord will do next, and we are already preparing to send another team in a few months.
Other Church Planting News
Eight of our Bible Training Schools met in May and a total of 103 students were trained.
Thanks to one of our church partners, many of the Bible schools received mattresses for the students to sleep on while they are away at school.
Pastor Ernest spent some time ministering to people in the hospital this month and also traveled with his wife to follow up with a church plant about 40 kilometers from their home in Dedza. Follow-up is crucial to church planting and this family is doing great work.
Prayer Requests
Your prayers make a difference, so we humbly ask you to intercede with us on behalf of:
The Machinga people and those who have recently come to Christ among them
The students and leaders at the nine Bible Training Centers
Sponsors for each of the training centers