Reaching the Lost in Malawi
Our founder, Joe Veal, spent several weeks in Malawi in March. He and other members of our team were able to reach more than 3,500 people with the gospel, drill 15 wells and repair another 34 wells!
Many of our supporters have given recently to provide clean water and the gospel, and we are so grateful. We also want to thank the Rotary Club for partnering with You Turn to fund 11 of the 15 wells that were drilled.
Watch the video below to hear a testimony about the water work recently completed.
Kasiya Training School Graduation
All nine of our Bible training schools met in March, and a total of 128 students were trained. These schools meet Monday through Friday, one week out of each month. The students and teachers travel various distances and stay together for the week.
The graduation photos below are at Kasiya Training School where 17 students graduated on March 10. The students invited their wives and families, government officials and traditional leaders to join them for all the food and festivities.  
Thanks to the many of you who were led to give towards Bibles over the past year. As a result, we were able to purchase 200 Bibles for the training schools. These will be used by the students and also in the churches that are planted by the students.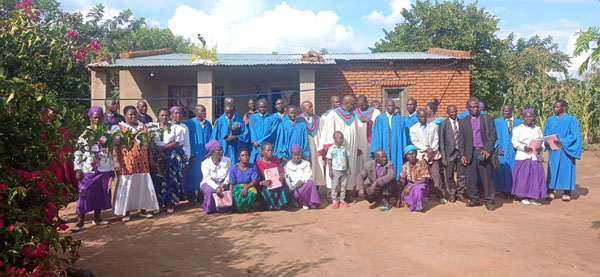 Lighthouse Update
The lighthouses at Mitundu and Dedza continue to minister to the physical, spiritual and educational needs of more than 30 children each week. Monday through Friday, these children are able to eat, learn the scriptures and receive help with school work. They also receive school supplies and uniforms. Please take a moment to hear from David in the video below. David is one of the children being served at the Mitundu lighthouse.
Prayer Requests
Please continue to pray for all God is doing in and through You Turn. This month, we ask you to pray specifically for:
The families of more than 400 people who died in the recent cyclone in Malawi
The students and leaders at the nine training centers
The orphans and leaders at the lighthouses
The graduates from the training centers who are planting new churches in the last places
Wisdom and discernment in the hiring process for new staff members in Malawi
Provision for the following:

Mattresses for students to sleep on at the training centers, along with other needed materials
Financial support for water, orphans and church planting in Malawi
Funds to purchase a new vehicle for teams to use to reach the lost people in the last places
We so appreciate the support of our prayer partners and donors. If you would like to make a gift to further our efforts in southeast Africa, you may do so through our secure website.